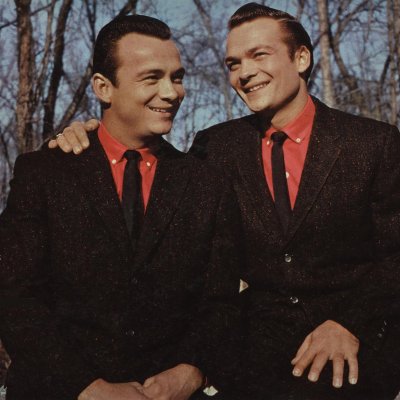 Teddy and Doyle Wilburn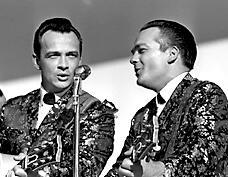 photo© The Tennessean
By CRAIG HAVIGHURST . Staff Writer - The Tennessean
Teddy Wilburn, half of a country duo that excelled in both music and the music business from the 1950s through the 1970s, died yesterday from congestive heart failure after a battle with a rare form of Parkinson's
disease at Southern Hills Medical Center. He was less than a week shy of his 72nd birthday.
The Wilburn Brothers, Teddy and Doyle, sang close harmony on such hits as Hurt Her Once for Me, and wrote songs such as Somebody's Back in Town and Let Me Be The First To Know.
They also founded publishing and booking companies that aided the careers of Loretta Lynn, Jean Shepard, Sonny James, the Osborne Brothers and others. Doyle died in 1982.
Because Mr. Wilburn's lead singing and his brother's tenor harmony evoked the style of acts such as the Monroe Brothers and the Louvin Brothers, ''Many people deemed the Wilburn Brothers to be the last great brother duet act in country music,'' WSM disc jockey and country music historian Eddie Stubbs said yesterday.
Don Helms, the former Hank Williams steel guitar player who backed the Wilburns as an instrumentalist and business partner, said, ''I spent 10 of the best years of my life with them.''
Helms described Mr. Wilburn as a clean-living, articulate gentleman: ''I can truthfully say they were the classiest act — together and individually — that I've ever worked with.''
Thurman Theodore Wilburn was born Nov. 30, 1931, in the Ozark Mountain community of Hardy, Ark. He and Doyle were merely 6 and 5 years old, respectively, when their father, Benjamin, organized them and older sons Lester and Leslie and daughter Geraldine into The Wilburn Family band.
The children first performed outdoors on Christmas Eve 1937 in nearby Thayer, Mo.
The band earned the admiration of Roy Acuff, who invited the Wilburn Family to play regularly on the Grand Ole Opry in 1940 or '41. Child labor laws prevented full membership, so after six months of weekly shows the band returned home.
After World War II, the group returned to local stages without Geraldine. They met and helped future Country Music Hall of Famer Webb Pierce, then a little-known singer, land a key slot on the Louisiana Hayride barn dance in Shreveport, La.
Mr. Wilburn and his brother Doyle were drafted during the Korean War. By the time they were discharged in 1953, Pierce was a major Opry star, and he returned the favor, taking the brothers, now a duo, on tour and helping them land a deal with Decca Records.
The Wilburns' first hit record was a collaboration with Pierce called Sparkling Brown Eyes, which spent 18 weeks on the charts, peaking at No. 4, in June 1954. They were uncredited backing vocalists on Pierce's biggest single, In the Jailhouse Now, Stubbs said. They also toured with Faron Young and Ernest Tubb and soon were asked to become Opry members.
From 1955 to 1972, the Wilburns placed 30 songs on the country charts, though none peaked higher than Hurt Her Once for Me, a No. 3 record in 1966, according to Billboard. Other top five hits included Which One Is to Blame (1959), Trouble's Back In Town (1962), Roll Muddy River (1963) and It's Another World (1965).
As businessmen, the Wilburns proved arguably even more formidable. They launched Sure-Fire, a music publishing house, and the Wil-Helm Talent Agency, a partnership with Helms.
The Wilburns added Lynn to their road show and managed her for a decade. Doyle helped get Lynn out of an early record contract and on to prestigious Decca, where she launched her Hall of Fame career.
Between 1963 and 1974, the Wilburn Brothers were hosts of one of country music's first color syndicated TV shows, exposing artists they worked with, including Lynn and the Osbornes. Other artists who appeared on The Wilburn Brothers Show included The Oak Ridge Boys, Tammy Wynette, Bill Monroe, Tex Ritter and Barbara Mandrell.
In 1967 the Wilburns were named Duet of the Year in the Music City News Awards. The Country Music Association nominated them for the Vocal Group of the Year award in 1972.
Mr. Wilburn studied acting in Hollywood for a time and continued to perform on the Opry into the 1990s. He was a member of the cast at the time of his death.
Funeral services will be open to the public at the Ryman Auditorium tomorrow at 1 p.m., with visitation beginning at noon.